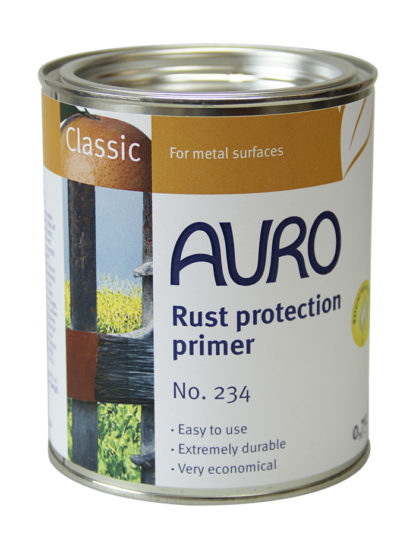 Auro 234
Rust Protection Primer
Stop rust! This primer safely protects iron and steel from corrosion. Repaint with AURO Aqua or Classic topcoats or paints. Suitable for inside and outside. On interior surfaces the rust primer is only recommended in a few special cases, e.g. in permanently wet areas.
Overview
Technical Data
Ingredients
Overview
Application
Treat ferrous metals once or twice. Reworkable after 48 hours. Priming is followed by application of one or two coats of AURO paints, Aqua or Classic.
Tips
The rust primer is suited for new or derusted metals. Thoroughly derust surfaces by grinding, do not use rust converters.
VOC Level: ≤ 300 g/l.
Breathability: Microporous
Allergies: MI free
Technical Data
Ingredients
Alcohol
,
Balsamic turpentine
,
Castor oil
,
Colophony glycerol ester
,
Drying agents, metal soaps
,
Fatty acids
,
Lecithin
,
Linseed oil
,
Mineral Fillers
,
Mineral pigments
,
Orange oil
,
Sunflower oil
,
Swelling clay
,
Titanium dioxide