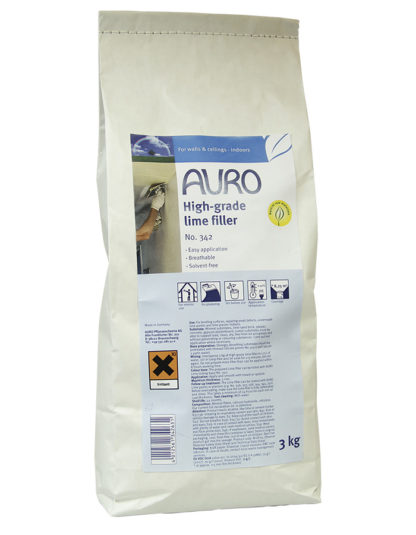 Auro 342
High-grade lime filler No. 342
This product comes in powder form for self-mixing with water. The High-grade lime filler levels surfaces with uneven absorbency, e.g. gypsum plasterboard, prior to the coating with High-grade lime paints. It is suited for repairing small defects as well as for surface levelling.
Easy mixing with water: According to the desired consistency, add 460-580 ml of water per 1 kg of filler and disperse without formation of lumps, leave to swell for 2-5 minutes, stir again and process within 8 hours.
The product can be tinted with AURO Lime tinting base no. 350. It can also be compressed with a smoothing trowel, Venetian shape, to produce glassy wall surfaces, similar to the Moroccan Tadelakt.