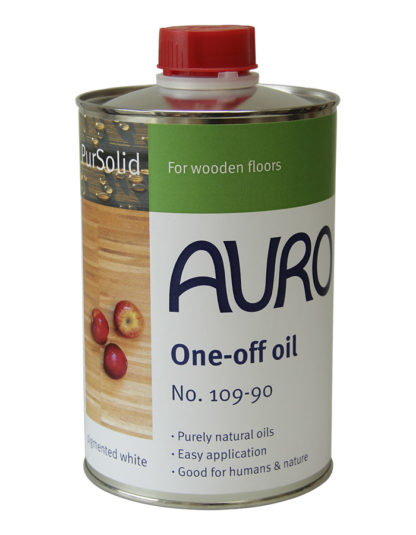 Auro 109-90
One-off Oil, White
Protective oil for untreated and pre-oiled furniture and floors made of light-coloured types of wood. Provides easy-care surfaces pigmented white. Apply, remove excess oil, polish: done!
Overview
Technical Data
Ingredients
Overview
Application
Apply evenly on finely sanded wood. Work "wet on wet" on strongly absorbing surfaces until the wood is saturated. Take off surplus oil within 20 minutes.
Tips
Shake well before use. The white pigmented oil by and large maintains the original colour tone of the surface.
VOC Level: ≤ 1 g/l
Breathability: Microporous
Wipeability: Washable
Allergies: MI free
Technical Data
Ingredients
Wood oil
,
Linseed oil
,
Titanium dioxide
,
Sunflower oil
,
Castor oil
,
Drying agents, metal soaps
,
Fatty acids
,
Lecithin
,
Orange oil
,
Silicic acid