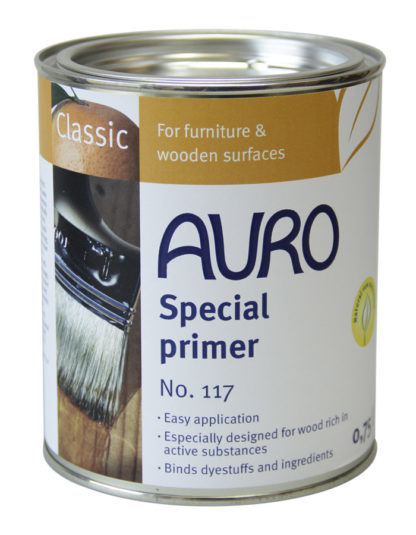 Special primer for types of wood and wooden materials rich in active substances. Prevents drying delays caused by tanning substances in the wood, breakthrough of discolouring ingredients in white coatings and efflorescence on salt- and pressure-impregnated wood. Recommended for use on Oak, Red Oak, Ash, Cherry, Chestnut, Nut, Larch, Bamboo, Framiré, Red Cedar, Red Meranti, Almendrillo (Cumaru), Jatoba (Paquio), OSB and Cork.
Overview
Technical Data
Ingredients
Overview
Application
Apply evenly and rework after 24 hours at the earliest.
Tips
The Special primer is absolutely essential as primer for AURO Aqua products on wood types rich in active substances.
VOC Level: ≤ 600 g/l.
Breathability: SD value < 0,015 m
Allergies: MI free
Technical Data
Ingredients
Alcohol
,
Castor oil
,
Colophony glycerol ester
,
Drying agents, metal soaps
,
Lecithin
,
Linseed oil
,
Orange terpene
,
Silicate
,
Sunflower oil
,
Swelling clay