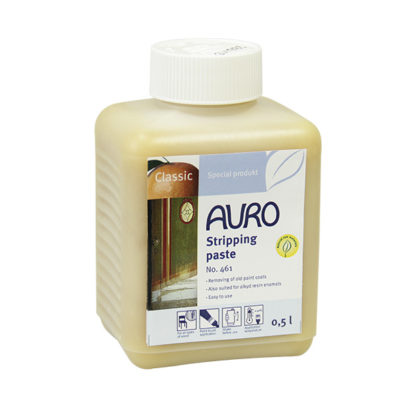 This stripping paste is the ideal solution for removing old oil, natural resin and alkyd resin coatings from wood, wooden materials and rendering. The paste uses natural solvents to soften the old layers for removal and can be reapplied until all old paint is removed.
Overview
Technical Data
Ingredients
Overview
Application
Apply undiluted and sparingly with a brush or spatula and remove the dissolved layer after approximately two hours. Repeat if necessary. Wash and neutralise the surface thoroughly.
Tips
Due to the aggressive effect of the product, wear gloves during the application and preferably use old or corrosion-resistant tools.
HAZARDOUS IF MISUSED
Allergies: MI free but may cause allergic reaction and is caustic.
Technical Data
Ingredients
Alcohol
,
Liquid ammonia
,
Citrate
,
Eucalyptus oil
,
Linseed oil
,
Orange oil
,
Water
,
Wheat flour
,
Wine vinegar